Nantucket County is made up of Nantucket Island and the small islands of Tuckernuck and Muskeget, all of which are located in eastern Massachusetts, just south of the coast of Cape Cod. According to the U.S. Census Bureau, Nantucket County has a population of just over 10,000 and has a total area of 105.3 square miles. Nantucket County borders Dukes County to the west and Barnstable County to the north.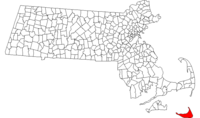 The Nantucket Superior Court is located in Nantucket. There are district courts located in the following towns:
__________________________________________________________________________
For over 25 years, Boston Personal Injury Attorney Keith L. Miller has been representing victims of accidents throughout Massachusetts. If you or a loved one has been injured in an accident where you believe someone else is at fault contact Boston Personal Injury Lawyer Keith L. Miller to arrange a free consultation 24 hours a day, 7 days a week by telephone at (617) 523-5803, or click here to send him an email. You will be contacted within 24 hours.