Orleans, Massachusetts is located on Cape Cod, has a population of 6,341 and a total area of 21.1 square miles. Orleans is part of the Cape Cod National Seashore. The town is part of Barnstable County. The Orleans District Court is located at 237 Rock Harbor Road and serves the following municipalities: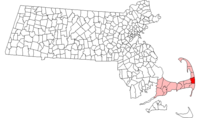 Brewster
Chatham
Dennis
Eastham
Harwich
Orleans
Provincetown
Truro
Wellfleet
_______________________________________________________________________
For over 25 years, Boston Personal Injury Attorney Keith L. Miller has been representing victims of accidents throughout Massachusetts. If you or a loved one has been injured in an accident where you believe someone else is at fault contact Boston Personal Injury Lawyer Keith L. Miller to arrange a free consultation 24 hours a day, 7 days a week by telephone at (617) 523-5803, or click here to send him an email. You will be contacted within 24 hours.