Accidents often arise out of situtions where someone's conduct causes injury to another, and it appears that the act causing injury was carried out intentionally. The most obvious type of situation is an assault and battery. Someone hits you in the face with their fist and causes injury, requiring medical treatment. You obtain treatment, seek the services of an attorney and bring a claim. The individual who caused the injury usually resides in a home and may have liability insurance coverage under the policy insuring the home, even if someone else owns the house.
Most homeowners' insurance policies provide insurance coverage for household members for their conduct both within and outside of the home. However, there are usually exclusionary provisions, which preclude coverage for intentional acts, and more specifically, for intentional illegal or criminal acts.
At first blush, one might assume that in all such situations, where an act appears to be intentional, there will be no coverage. However, Courts in Massachusetts and elsewhere have interpreted insurance policies to preclude coverage only where there was an intent to cause a specific injury, rather than simply if the act itself was intentional.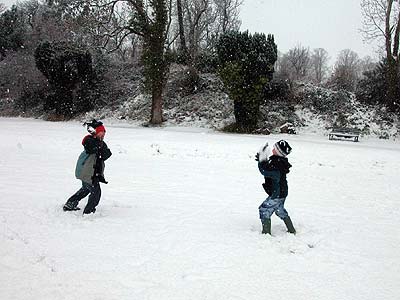 Thus, for example, if a group of children were throwing snowballs at one another in the yard, obviously intending to hit one another, and a snowball happened to hit a child in the face, causing injury to an eye, for example, it is likely that there would be insurance coverage for the accident. The act was intentional, but there was no intent to cause the specific injury. In this situation, there would likely be coverage afforded.
Insurance companies will often try to avoid coverage, and the duty to pay damages by alleging that there is exclusionary language in a policy. However, there are statutes in most states, including Massachusetts, which require insurers to handle claims fairly and properly, and insurers can be sued and forced to pay punitive damages and attorney's fees when they fail to do so.
If an insurer either refuses to defend a claim on behalf of an insured or to pay a claim when liability is obvious, it may be necessary to file a seperage action directly against the insurance company, alleging bad faith insurance practices and attempting to force them to fulfill their duties. A qualified personal injury attorney should know how and when to notify insurers when it appears they are violating state statutes and to bring such actions when necessary, and this kind of suit is usually part of the representation provided as part of the accident claim.
The issue has been considered and decided by the Supreme Judicial Court in Massachusetts in
Preferred Mutual Ins. Co. v. Gamache , 426 Mass 93 (1997), where the Court explained the law as follows: [i]t is only the intended injuries flowing from an intentional act that are excluded; just as it is the injury and not the legal liability of the insured which must have been caused by accident; and a homeowners policy covers bodily injury from unintended results of an intentional act, but not for an injury which was intended. Thus, there will likely be coverage for an accident involving intentional conduct, so long as it can be convincingly demonstrated that the particular injury resulting from the act was not intended by the perpetrator. It is of utmost importance to make this clear to the insurer.
_______________________________________________________________________